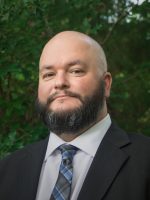 Role: I joined Mason Nation in July 2017 as a laboratory safety specialist in the Environmental Health and Safety Office (EHS). EHS is one of the divisions of Safety, Emergency, and Enterprise Risk Management (SEERM). I became a laboratory safety officer in January 2019.
EHS provides support to not just the instructional and research laboratories on Mason campuses but also Facilities, Housing, and Auxiliary Services. Some of my responsibilities include conducting trainings, emergency spill response, testing of emergency equipment, inspections of laboratory spaces, hazardous materials management, and university compliance with federal, state, and local hazardous waste regulations.
COVID-19 response: During the pandemic, EHS and SEERM have risen to the challenge and remained fluid in our current and new responsibilities. We transitioned to online trainings, collected and distributed PPE and sanitizing supplies, established social distancing protocols in all Mason spaces, and assisted in on-site testing, all while providing our usual support to the university.
Mason journey: I became aware of Mason in 2006 during the men's basketball team's Cinderella run to the Final Four. In 2008, I became the general manager of Noodles & Company in Old Town Fairfax. During my time there, I had many employees who were students at Mason—some of the best employees I ever had. They were professional, on-time, and had strong customer service skills.
We would do fundraising nights for Mason, and the turnout and support that Mason Nation showed was outstanding and recognized nationally throughout Noodles & Company. I changed career paths between then and now, and when the opportunity to join Mason presented itself, I jumped on it immediately.
Why serve on Staff Senate: I want to advocate for Mason staff. With a large group of employees with many roles and responsibilities, it becomes easy to only focus on those we work with daily. Even as a newly elected senator, I already see that I only knew a little about the functions of the university. Having met the majority of my fellow senators online, I am looking forward to networking and learning more about the inner workings of the university while being a voice for staff.
Best thing about working at Mason: I feel like I am working with people who all have the same goal—making George Mason the best it can be as it becomes a leader among other universities. I feel like all students, faculty and staff take a lot of pride in where they work. This is a feeling that I have not seen or felt in many other workplaces. I also enjoy the quality of life, even with the added responsibilities that I have during COVID-19. I do not feel that I am only defined by my work.
At the end of the day: We are in unprecedented times that can sometimes be scary and frustrating. Yet I am really impressed with how Mason Nation has responded to the COVID challenge. I couldn't be prouder to be a Patriot.