Through April 28: Spring into Well-Being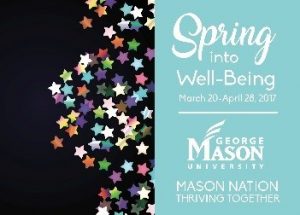 Spring into Well-Being 2017, showcases Mason programs and events that highlight or support a dimension of well-being (physical, career, social, community, psychological and financial) and are open to the Mason community.  Spring into Well-Being and Mason's Well-Being University initiatives are dedicated to helping faculty, staff, students, and alumni build lives of vitality, purpose, resilience, and engagement.  To learn more, visit http://wbu.gmu.edu.
A Special note for Spring into Well-Being Events
A reasonable amount of time spent at the Health & Fitness Expos, Victims' Rights Run/Walk or any Spring into Well-Being events can be considered part of the workday with supervisor approval.
Over 130 events will be included in Spring into Well-Being.  Here's a sample:
Financial Well-Being: Social Security – Your Questions Answered (Fidelity Webinar) on April 6 at 1 p.m.
"Learn how to maximize your Social Security benefits to get the most you can out of the program."
               Please note: You do not need to be a Fidelity member to participate in these webinars.
Financial Well-Being: Eye on the Prize – Almost There
As you approach the end of the accumulation phase of your career and into the spending phase of your life, you will want to make sure the ride into retirement is a smooth one. In this seminar on April 6 at noon, Steven Scott from ICMA-RC will discuss how much retirement will cost, Social Security planning and, a ready-to-retire checklist.  Who should attend? Mid-to-late career employees (family members welcome). You do not have to be enrolled in an ICMA-RC account to attend. (V/C Arl/SciTech)
Career Well-Being: Payroll Drop-In Meetings
Whatever your payroll-related question, we hope you will join us at our monthly Payroll Drop-In meeting.  No need to RSVP or register, just drop by Merten Hall, Room 4104 between noon and 2 p.m. (inside the HR & Payroll office) on any of the dates below.
        

Friday, April 7

        

Friday, May 19

        

Wednesday, June 21
If you have any questions about the meetings, please contact Catalina Wheat at cwheat@gmu.edu.

Physical Well-Being: Healthy Aging and Longevity
Our goal is to age well. So how does one do that?  Could volunteerism hold benefits for your well-being? Join Patrice Winter PT, DPT, MHA, FAAOMPT on April 10 at noon as she explores the evidence and best practices of this intriguing concept. (V/C Arl/SciTech)
Community Well-Being: DMV2Go
Take care of your Department of Motor Vehicle (DMV) business at a convenient Mason location.  DMV2Go will be on the Fairfax Campus on Tuesday, April 11 from 9 a.m. – 4 p.m. in the Merten Hall parking lot.  For a complete 2017 DMV2Go schedule, please visit DMV2Go at Mason.
Financial & Physical Well-Being: HR & Payroll Benefits Fair – Talk to Your Financial & Health Reps
Stop by Merten 1201 on Wednesday, April 12 from 10 a.m. – 2 p.m. to chat with some of Mason's financial vendors including TIAA, Fidelity Investments, ICMA-RC, Virginia Retirement System, Virginia 529, and Apple Federal Credit Union.  Mason's health vendors will also be in attendance including Anthem (COVA Care), Kaiser Permanente, Aetna (COVA HealthAware), Delta Dental, MyActiveHealth and CommonHealth.  Hope to see you there!
Financial Well-Being: Getting the Most Out of Your Mason Benefits Package
If you are enrolled in or are eligible for benefits through Mason, you have a package of services and opportunities that can assist you throughout your career, in good times and in challenging ones. Join us for this session on April 20 at noon to see the role your benefits can play at every stage in your life at Mason. (V/C Arl/SciTech)
Physical Well-Being: SAVE THE DATE: 21st Annual Victims' Rights 5K Run & Walk (VRRW)
Mark your calendars for Thursday, April 27 at 12 noon for the annual Victims' Rights Run/Walk which will start and finish on the Merten Hall Lawn.
The VRRW is sponsored by Mason's Department of Police and Public Safety in partnership with several other Mason departments and in collaboration with the Aimee Willard Endowed Scholarship Fund. The proceeds of this event go to support the Rape Aggression Defense (RAD) Program, which teaches women basic self-defense and the Victims of Violence Fund which is administered by the Student Support and Advocacy Center. Your involvement makes it possible for Mason to fund these two important programs, while promoting and defending victims' rights!  Registration information will be available soon.