Wednesday, March 1
Noon to 2 p.m.
Fairfax: Innovation Hall, Room 334
Arlington: Founders Hall, Room B119 (videoconferenced)
SciTech: Bull Run Hall, Room 254 (videoconferenced)
Guest Speakers:
Julian Williams, Vice President of Compliance, Diversity, and Ethics
Jennifer Hammat, Title IX Coordinator
Guest speakers begin at noon, followed by time to ask questions, express concerns, or offer feedback about issues concerning Mason staff.
Submit a question for the guest speakers in advance (staffsenate@gmu.edu), or attend the meeting to participate in the discussion.
For questions, contact staffsenate@gmu.edu.
Julian Williams, Vice President of Compliance, Diversity & Ethics
Jennifer Hammat, Title IX Coordinator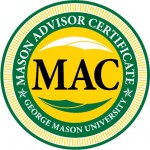 The Mason Academic Advisor Network (MAAN) is excited to announce the spring schedule for the Mason Advisor Certificate Program (MAC). The MAC Program seeks to enhance and develop the Mason academic advising experience. Modules address the informational, conceptual, and relational aspects of academic advising. The program provides a cohesive curriculum centered around topics related to advising approaches, Mason policies and procedures, advising tools, university resources, developing an advising philosophy, and more.
Visit the website for module descriptions and the full schedule. Participants may register at hr.gmu.edu/learning/mac.php.
Questions? Contact Smriti Kansal at skansal@gmu.edu or Erin McSherry at emcsherr@gmu.edu.
The next Mason Administrative Professionals (MAP) meeting will be held on March 21 from 11:30 a.m. to 12:30 p.m. in Merten Hall, Room 1204. Our guests will be Mike Laskofski, Associate Vice President of Research Operations, and Pat Sperry, Associate Director of Outreach and Systems Administration. They will present an overview on the Office of Sponsored Programs. Deb Crawford, Vice President of Research, will also share additional information about research initiatives at Mason.  
The MAP group welcomes anyone working at George Mason who considers themselves to be in an administrative professional role. 
For questions, contact Lynne Paraggio at 703-993-3844 or lparaggi@gmu.edu.