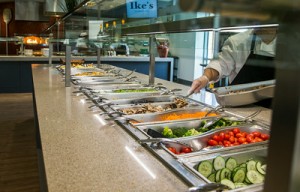 Hike to Ike's was so popular, it is coming back every Friday during Mason's Spring into Well-Being. This time, we are adding the Globe as another hike destination. Join fellow faculty and staff around campus as they lace up their sneakers and hike to some fun, new dining venues on campus for lunch. Faculty and staff receive a discounted lunch rate of $8 at these locations from 11 a.m. to 2 p.m.
Save even more money when you sign up for a Faculty/Staff BYTE Plan. Cash, credit card, and Mason Money are accepted.
View more details. Contact Wendi Carroll at wcarrol2@gmu.edu for more information.