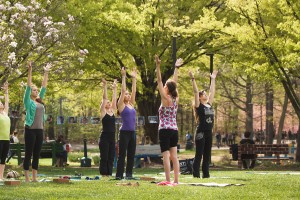 A central aspect of the mission of the Center for the Advancement of Well-Being (CWB) is to contribute to the well-being of our Mason community. CWB is thrilled to offer a summer session of our weekly Yoga for Well-Being practice open to all Mason students, faculty and staff.
"Yoga for Well-Being" is a hatha yoga class carefully themed to deepen one's experience of an interdisciplinary approach to yoga. This practice includes precise instruction in beginning and intermediate level postures, breathing practices, and guided relaxation. Modifications will be offered to individualize the practice. You will need to bring your own yoga mat and any props you need. All are welcome. Let the instructor know at the beginning of class if this is your first yoga practice or if you have any serious physical limitations.
More information can be viewed on Center for the Advancement of Well-Being website or on the Free Summer Yoga flier.